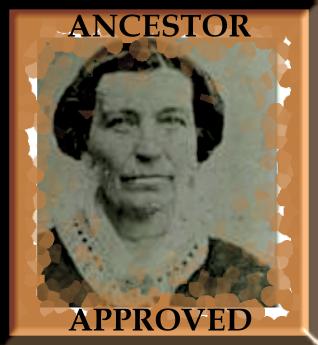 The "Ancestor Approved" Award is an award in the genealogy blogger community. It was awarded to me by Joanne of Keeper of the Records. Thank you so much! It means a lot that my blog is getting noticed by other genealogy bloggers.
Accepting this award also means that one is asked to "list ten things you have learned about any of your ancestors that has surprised, humbled, or enlightened you", as well as "pass the award along to ten other bloggers who you feel are doing their ancestors proud."
So here we go!
After I really got into my research, I was surprised to learn just how many resources on Latvian genealogy there really are out there. When I was younger I used to think church records were the extent of it – I was happy to learn there is much much more!
I am humbled by the wartime experiences of my grandparents, and frequently remind myself that if they were able to flee across a continent filled with war and chaos to find safety and security in a new land where they built successful new lives from scratch, that I can do anything I put my mind to.
It has been enlightening to see the historical progression of society in Latvia from rural roots to an urbanized existence – but I am still seeking to find what specifically it was that brought two of my ancestors to the "big city" (RÄ«ga) from their homes in the rural north of the country.
I was surprised to discover that three of my great-grandparents were influential in their occupational fields in the inter-war period in Latvia – one as an assistant director of a division of the postal savings bank, one as a leader in the counter-intelligence agency and one as a justice of the peace and member of Parliament. The former even had an entry in the Latvian "Who's Who". All three were also from rural farming families.
It has been very enlightening to be able to read the Saeima (Latvian parliament) minutes, to learn more about my great-grandfather Augusts LÅ«kins' specific work and speeches that he made. Through those minutes and both his judicial and police employment files, I've been able to get a very complete picture of his life and career.
I was surprised to find out that my great-grandfather Pēteris Celmiņš, his wife Anna (nee Liepa) and their children Juris and Skaidrīte moved half a dozen times beween 1924 and 1927. All bar one of these homes were within 5km of one another. I still do not know why, since they both had steady, well-paid employment during this time.
I've learned so much from the wide variety of documents I've had to deal with. It has been enlightening to be able to read records not only in modern-style Latvian, but in German, Russian and old-style Latvian writing. Modern Latvian writing only came about in the 1920s, and some people continued to use the old style into the 1940s.
I was surprised to discover that it is possible to find distant relatives through the Internet, even for such a small ethnic group as Latvians. In the past couple of months, I've made contact with two distant relatives, one from each side of my family, both descendants of my great-grandparents' siblings.
I am constantly surprised by the wide breadth of surnames that I discover while perusing church records. Latvians may have been a primarily agrarian people, but boy, did they ever have some creativity when it came to coming up with names!
I am humbled by the responses that I get to my blog and my various projects, and am pleased that there are others out there who are researching their Latvian roots that have been helped by the information that I've provided. I never expected to get as much of a response to my blog as I have!
I only have five nominations, since many of the genealogy blogs I read have already been nominated:
Thank you, everyone, for reading! While work has ended up taking up a lot of my time, over the past weekends I have been able to churn out some record and surname work for the Surname Project and the Record Project. Stay tuned for project updates coming in the next few days!