It is time for the letter "D" in the Family History Through the Alphabet challenge!
D is for Denmark
After the Second World War, there were thousands of Displaced Persons (DPs) across Western Europe, having escaped the Soviet takeovers of their homes. A large number of these DP camps were in Germany, and they get the most attention. But there were DP camps in other countries as well, with their own stories to tell, that barely get any attention.
One of these countries was Denmark. Just north of Germany, as well as across the strait from Sweden and with easy access to the Baltic Sea, Denmark was on the front lines of receiving Eastern refugees, among them my maternal grandparents. All in all, approximately 2000 Latvian DPs ended up in Denmark, out of a total of approximately 250,000 DPs in Denmark as a whole (most of them Germans from Eastern Europe).
There were a number of DP camps that took them in. At first, many DPs were accommodated in local palaces and halls until more long-term housing could be found – my grandmother and great-aunt recall sleeping on straw in the halls of a Copenhagen palace – I don't recall now if it was Christiansborg or Amalienborg. A series of camps were developed, and some of the biggest ones were in Aalborg, Copenhagen, Ollerup and Sortso. The lives of Latvian DPs in Denmark are described in LatvieÅ¡u bÄ"gļi Dānijā (Latvian refugees in Denmark) by Guntars Saiva as well as Nabagi pilÄ«s (The poor in palaces) by Ivars SÄ«lis. The latter's author was a young boy at the time, and I enjoyed it in particular because he appears to have been in the same DP camps as my grandparents.
The DP camp where my grandparents met I believe was Gurrehus – a manor house west of Helsingor owned by Prince George of Greece. How many DPs lived there I can't say, but my grandfather Aleksandrs Francis was the leader of the DPs there. My grandmother participated in the choir. I have numerous photographs from this time period. As an example…
Click for larger photo. Residents of Gurrehus, c. 1945-1946.
After Gurrehus was closed in 1946, the DPs went to numerous places. One that my grandmother and great-aunt remembered was Pragas Boulevard in Copenhagen. A memorial to Latvian DPs, specifically those that died while living in Denmark, is in the Vestre cemetery in Copenhagen. It was designed and constructed by Latvian artist Leo Stepe. I have featured images of it here before, but I'll include it here as well:
Memorial in Vestre cemetery. Photograph taken by me, November 2009.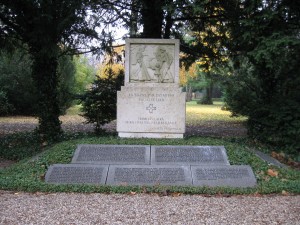 Eventually most Latvian DPs in Denmark moved on to homes in Canada, the United States and elsewhere. Some remained, and form the core of Denmark's Latvian community today.