In this series, I am sharing photographs that I took of graves while I was in Latvia. All have death dates prior to 1945, and I have no further information on the people mentioned.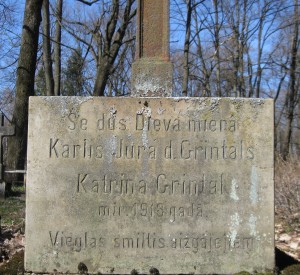 Photo taken by me, April 2012. Click to enlarge.
Top Inscription: "Še dus Dieva mierā" ("Sleeping here in God's peace")
Names: Kārlis Grīntāls, son of Juris; Katrīna Grīntāls, died 1918.
Bottom Inscription: "Vieglas smiltis aizgājējiem" ("Light sand for the departed")
Location: Meža kapi ("Forest Cemetery"), Rīga.
Tombstone Tuesday – Kārlis and Katrīna Grīntāls