In this series, I am providing pictures of tombstones from Latvian cemeteries, all with death dates prior to 1945. I do not have any further information on the people mentioned.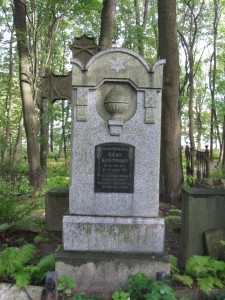 Photo taken by me, September 2012. Click to enlarge.
Top Inscription: "Å e dus Dieva mierā" ("Sleeping here in God's peace")
Name: Jānis Kreišmanis, born February 18, 1873, died May 23, 1920.
Bottom Inscription: "Kā rasa nozÅ«d dzÄ«vÄ«ba, Kā vakarÄ"jā dienā, Kad vel ir domāt nedoma, Jau labu nakti jāsaka" ("How life disappears like dew, like yesterday, when the thought has not yet been thought, that one must say good night already")
Location: Torņakalns cemetery, Rīga
Words on the tombstone are in old Latvian orthography, my transcription is in modern orthography.
Tombstone Tuesday – Jānis KreiÅ¡manis, 1873-1920