In this series, I am providing pictures of tombstones from Latvian cemeteries, all with death dates prior to 1945. I do not have any further information on the people mentioned.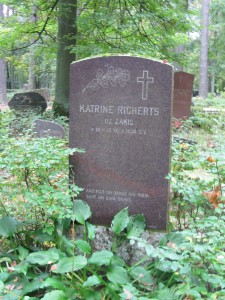 Photo taken by me, September 2012. Click to enlarge.
Name: Katrine Richerts, maiden name Zaķis. Born July 19, 1874, died May 3, 1936.
Bottom Inscription: "Kas mīļš un dārgs nav miris, kaut arī kapā grimis" ("That which is dear and precious has not died, even if it has sunk into the grave")
Location: Biķeri cemetery, Rīga
Tombstone Tuesday – Katrine Richerts, 1874-1936