In this series, I am providing pictures of tombstones from Latvian cemeteries, all with death dates prior to 1945. I do not have any further information on the people mentioned.
This stone is interesting for two reasons – one, the surname is clearly an ethnic Latvian surname, but the stone was chosen to be written in German, even in the 1930s, so what their ethnicity was is a bit unclear. The second interesting feature is that it lists birthdates in the Old Style (Julian calendar), but death dates in the New Style (Gregorian calendar), marking them both as such. Usually in such cases where someone was born under the old calendar but died during the new calendar, the birthdate would be transitioned to the new calendar.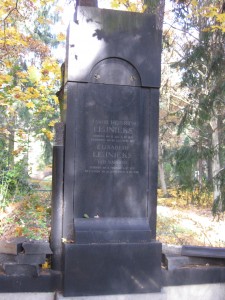 Photo taken by me, October 2012. Click to enlarge.
Names: Jakob Heinrich Lejnieks, born July 10, 1875 [O.S.], died July 26, 1937 [N.S.]; Elisabeth Lejnieks (maiden name Narring), born February 3, 1876 [O.S.], died September 12, 1939 [N.S.]
Location:Meža kapi, Rīga
Tombstone Tuesday – Jakob Heinrich and Elisabeth Lejnieks