In this series, I am providing pictures of tombstones from Latvian cemeteries, all with death dates prior to 1945. I do not have any further information on the people mentioned.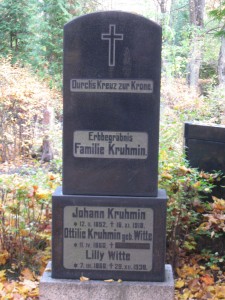 Photo taken by me, October 2012. Click to enlarge.
Top Inscriptions: Durchs Kreuz zur Krone ("Through the Cross to the Crown"); Erbbegräbnis Familie Kruhmin ("Krūmiņš Family Burial Site")
Names: Johans Krūmiņš, born Feburary 12, 1852, died November 16, 19118; Otīlija Krūmiņš (maiden name Witte), born April 11, 1860, death date missing; Lilly Witte, born March 7, 1866, died December 29, 1938
Location: Meža kapi, Rīga
Inscriptions on tombstone are in German and old Latvian orthography, translation and transcription in modern orthography is mine.
I have to wonder what happened to Otīlija. I'm guessing that there isn't a 151-year old woman somewhere in Latvia – that would be a record! What happened such that she wasn't buried with people who look to be her husband and sister? While "Krūmiņš" is a very Latvian name, "Witte" sounds more German. Was she an ethnic German? If she outlived her sister Lilly, maybe she was one of the ethnic Germans that repatriated to Germany at the outset of the Second World War? Did she remarry and was thus buried with her new husband? Questions abound!
Tombstone Tuesday – Krūmiņš and Witte Families