In this series, I am providing pictures of tombstones from Latvian cemeteries, all with death dates prior to 1945. In this case, I do have more information on the individual, see below.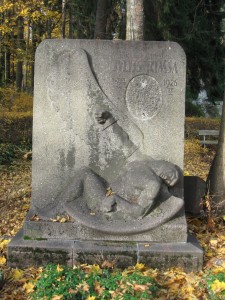 Photo taken by me, October 2012. Click to enlarge.
Top Inscription: Kara Lidotājs Virsl. (Airforce Lieutenant)
Name: Jūlijs Rimša, born October 25, 1894, died May 17, 1926
Location: Meža kapi, Rīga
It looks like this is another tombstone that was desecrated during the Soviet time and is missing a photograph. For a short biography and photograph, you can go to this website about Latvian aviation (in English).
Tombstone Tuesday – Jūlijs Rimša, 1894-1926