In this series, I am providing pictures of tombstones from Latvian cemeteries, all with death dates prior to 1945. I do not have any further information on the people mentioned.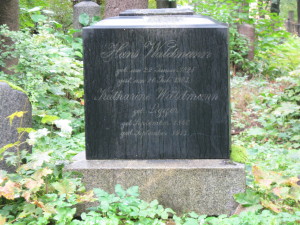 Photo taken by me, September 2012. Click to enlarge.
Names: Hans Waldmann, born January 22, 1825, died July 20, 1903; Katharine Waldmann (maiden name Ligger), born September 1840, died September 1913.
Location: Mārtiņa kapi, Rīga
It is odd that Katharine Waldmann's specific dates of birth/death are not present. While it might be that no one in the community knew her birth date, it would seem odd that they did not know her death date as well. Maybe since they didn't know one, they chose not to include the other, for aesthetic purposes?
Tombstone Tuesday – Hans and Katharine Waldmann