In this series, I am providing pictures of tombstones from Latvian cemeteries, all with death dates prior to 1945. I do not have any further information on the people mentioned.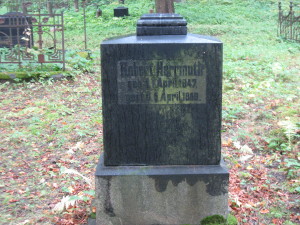 Photo taken by me, September 2012. Click to enlarge.
Name: Robert Herrmuth, born April 1, 1847, died April 5, 1908.
Location: Mārtiņa kapi, Rīga
The design of this indicates that it is one of the popular Latvian gravestones that originally had a cross on the top, but the cross was destroyed sometime in the past 100 years by vandals. Being as many gravestones lack crosses in this cemetery, it is possible that it was a concerted effort during the Soviet era, since the Soviet government wanted to remove religion from society.
Tombstone Tuesday – Robert Herrmuth, 1847-1908