In this series, I am providing pictures of tombstones from Latvian cemeteries, all with death dates prior to 1945. In this case I do have some more information on this person. For the Latvian Wikipedia entry, click here. Short background, in English: Born in Tirza parish in central Latvia, studied medicine at the University of Moscow. He participated in the 1905 Revolution, and then became a deputy in the Russian Duma, representing the Latvian Social-Democratic Workers' Party. After Latvian independence, he was chosen as the head doctor at the Rīga Children's Hospital, a position he held until his death in 1923.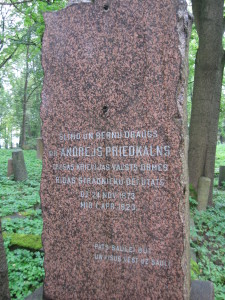 Photo taken by me, September 2012. Click to enlarge.
Top Inscription: "Slimo un Bērnu Draugs" (Friend of Children and the Sick)
Name: Dr. Andrejs Priedkalns, born November 24, 1873, died April 1, 1923
Middle Inscription: "Trešās Krievijas Valsts Domes Rīgas Strādnieku Deputāts" (Deputy of the Rīga Workers' Party in the Third Russian State Duma)
Bottom Inscription: "Pats saulei būt un visus vest uz sauli" (To belong to the sun and to bring everyone to the sun)
Location: Mārtiņa kapi, Rīga
This gravestone looks like it would have had a picture attached – since this man was a politician in the Russian Empire era, it is likely that the photo was removed by the Soviets when they took power in the 1940s, even though he was a socialist politician.
Tombstone Tuesday – Dr Andrejs Priedkalns, 1873-1923