In Loving Memory
Marta Emīlija (Līcīte) Jakstāne
June 26, 1911 – November 2, 2010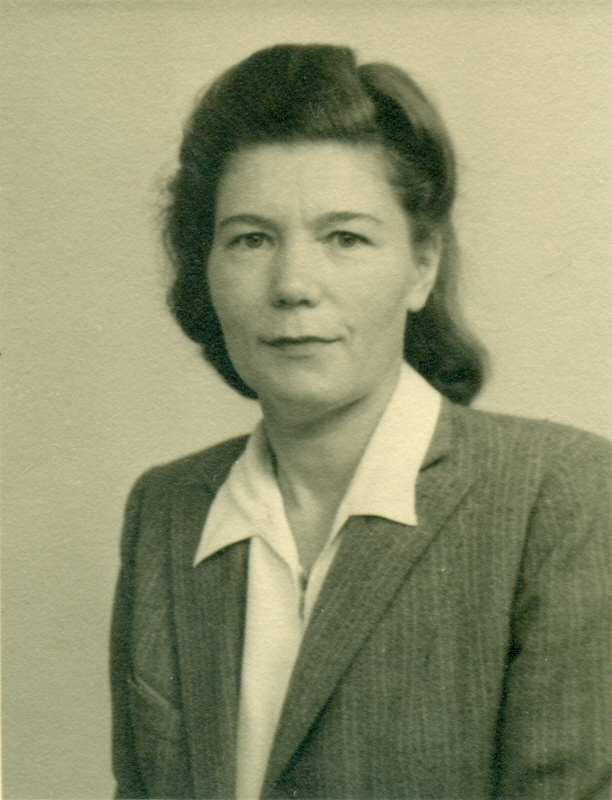 Marta Līcīte, c. 1946
My great aunt passed away last night. She was 99 years old.
She was born on June 13 (O.S.)/June 26 (N.S.), 1911, in Krustpils, Latvia. At the time of her birth, Krustpils was a border town in Vitebsk guberniya in the Russian Empire. Across the river was Jēkabpils in Kurland guberniya, now the two towns are unified under one local authority, Jēkabpils. Her parents were Brencis and Jūle (Štelmahere) Līcītis. Her godparents were Vera Namiķe, Marta Jaunzeme and Jānis Štelmahers.
When Marta was three years old, the First World War broke out. When fighting started between Germany and Russia, her family, like many other Latvian families, fled from the advancing front and settled temporarily in the interior of Russia near Rzhev. They lived with a Russian family with the surname Kislev. She learned to speak Russian and enjoyed speaking to the Russians at the market and going to the Orthodox church, even though her family was Lutheran. During this time, Marta had diptheria, and while she was very ill, she said she saw a beautiful white cat, and wanted to play with it. This inspired her to recover.
Marta and her father saw Alexander Kerensky, one of the leaders of the February Revolution and then the provisional government, speak. When the October Revolution took place and the Bolsheviks came to power, her family witnessed the local communists taking the town's grain stores and burning them in the centre of the town square, calling it "rich peoples' food". The communists then gave the people animal feed to eat.
After the war was over, the family returned to their home in Latvia, though turmoil would still last for a few years until the Wars of Independence were over and Latvia established a stable, independent government. Marta's sister, my grandmother, was born in an independent Latvia in 1919.
Marta attended primary school in Krustpils, earning good grades, excelling especially at German and drawing. She left school after her second year of secondary school and became a seamstress, continuing to live with and help support her parents while her sister went to nursing school in RÄ«ga.
When the Second World War broke out, Marta joined the Red Cross as a nurse's aide, and helped wounded soldiers alongside her sister. In 1944, when the Soviet front was moving closer, and remembering the first Soviet occupation, the sisters left Latvia, traveling across Eastern Europe to end up in Denmark by the end of the war. In the Displaced Persons camps, Marta met her husband-to-be Jānis Jakstāns, who was from Dobele in western Latvia. I'm not sure if they married in Denmark or upon arrival in Canada.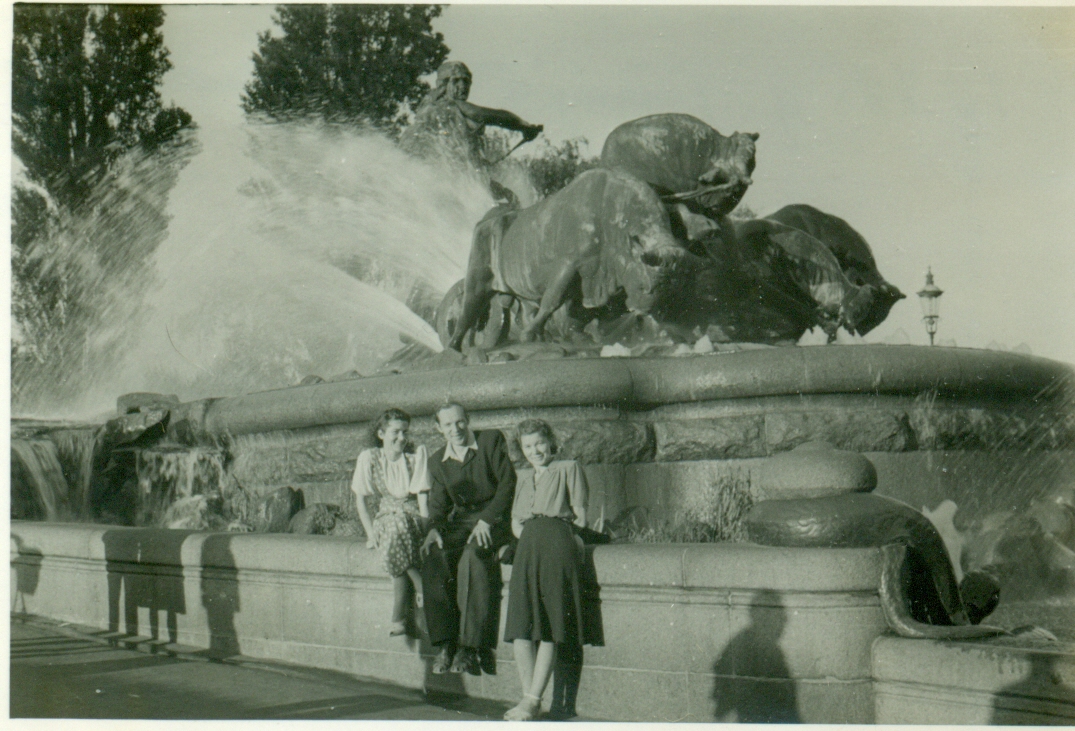 My grandmother, grandfather Aleks and great-aunt Marta by the Bull Fountain in Copenhagen, Denmark, c. 1948.
Marta and her sister traveled to Canada on the SS Samaria in 1949. I'm not sure if Jānis was with them or if he, like my grandfather Aleksandrs, followed along later. They eventually settled in the Port Weller district of Saint Catharines, Ontario. Jānis died of Creutzfeldt–Jakob disease in the late 1950s, which he had contracted from a blood transfusion after a roof tarring accident. They never had children. Marta continued living in the same house until 1993, when she and my grandmother moved to my family's town northwest of Toronto.
When I was little, she and I "travelled" all over the world, looking at maps and a globe and choosing exotic locales that we would create adventures about. One we returned to frequently was Belém, Brazil. I will have to go there one day in her memory.
While she became legally blind in her later years, when I was young she made intricate paper flowers that decorated her home and ours. She had a fondness for drawing, especially "mushroom families" – cute little mushrooms with faces that were often personifications of my parents and I.
She had an interest in the work of Axel Munthe, whose villa in Capri my parents and I visited on her behalf when we traveled to Italy six years ago. She kept a statue of a sphinx on her bedside table, as well as a small Hotei ("Laughing Buddha") figurine that she later passed on to my mother.
Four and a half years ago, Marta broke her hip and moved from the apartment she shared with her sister into a nursing home that was quite a distance from my family's home, but after a year or so she was able to move to one much closer. Her sister also moved there three years ago.
Over the past few months, she had been getting weaker and weaker. Last night, she passed peacefully, as if just going to sleep. She always loved philosophizing about the world, the ways of the universe and the great beyond, so now she will have all of her questions answered.
She is survived by her sister, niece, nephew-in-law and grand-niece (me).
"Vediet mani dziedādami, Nevediet raudādami; Lai iet mana dvÄ"selÄ«te, Pie Dieviņa dziedādama."
Latvian folksong (daina): "Escort me while singing, not while crying; May my soul go, to God while singing."