My grandfather Aleksandrs Francis was born on September 24th, 1920. The first twenty years of his life were, by all accounts, relatively normal for a middle-class Latvian youth growing up in the 20s and 30s. He attended an agricultural high school, followed by a degree in agronomy from the Jelgava Academy of Agriculture.
Then in 1940, everything changed. World War 2 had broken out, and the Soviet forces invaded Latvia when Aleks was nineteen. His father, Arvīds, an intelligence agent, was arrested by the Soviets, and subsequently executed. By the end of the war, Aleks had ended up in Denmark. He was twenty-four, and would never see his mother or sister again.
Aleks became a leader in the Latvian Displaced Persons community in Denmark, and was the Latvian representative of the Gurrehus manor DP camp. This poem was presented to him on his 25th birthday, on September 24th, 1945. Below is my literal translation – I'm sure it is littered with inside jokes and is probably partially in jest, these were probably twentysomething men writing this, after all – so it is likely that some aspects of it are lost in translation.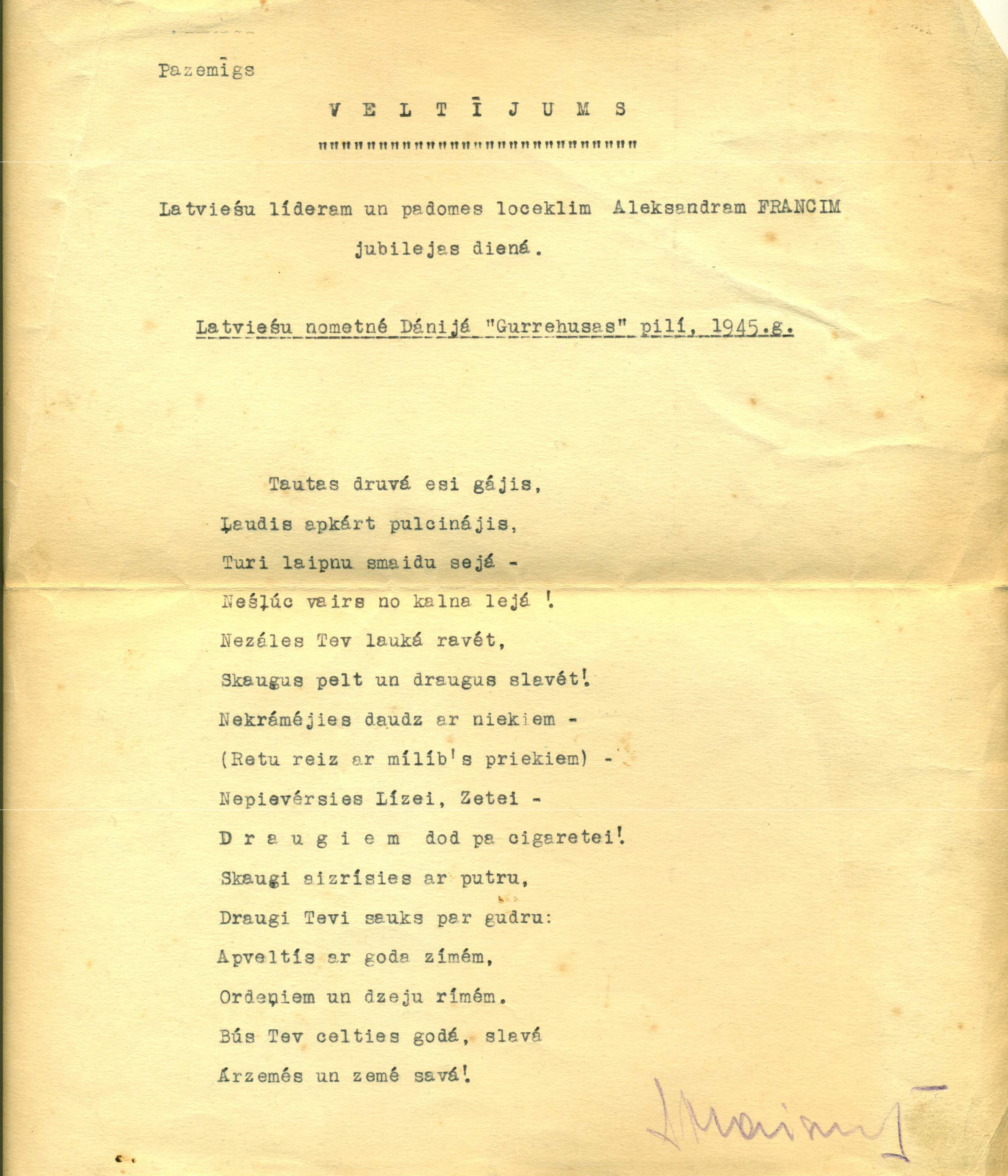 A humble offering
to Latvian leader and board member Aleksandrs Francis on his birthday.
Latvian camp in Denmark at "Gurrehus" castle, 1945.
(You have) Gone into the field of our people,
Gathered people all around you,
Keep a pleasant smile on your face –
Don't slide back down the mountain!
There are weeds for you to weed in the fields,
Blame the envious and glorify friends!
Don't worry yourself with trivial things –
(Rare is the time with love's joys)
Don't pay attention to Liza or Zete –
Give your friends a cigarette!
The envious will choke on porridge,
Friends will call you smart:
They'll give you commendations,
Medals with rhyming poems.
May you rise in honour and glory,
Abroad and in your country!
While at first glance, a document like this might not appear to have genealogical value besides personal interest, looking more closely does reveal important elements – namely, dates and places. I knew about the Gurrehus DP camp from my grandmother and great-aunt (and I believe it is where my grandmother and grandfather met), and have visited the site personally, but I had thought that it was one of the later places that they stayed during those four years in Denmark. This shows that Aleks at least was already at Gurrehus in 1945, not long after the end of the war. This can help to reconstruct his post-war movements and places of residence. Once I obtain ITS documents for him, then I will be able to get a fuller picture of his life after leaving Latvia and before arriving in Canada.
Birthday Gift for Aleksandrs Francis – September 24, 1945