In this series, I am providing pictures of tombstones from Latvian cemeteries, all with death dates prior to 1945. I do not have any further information on the people mentioned.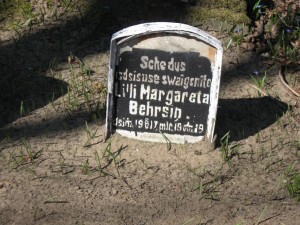 Inscription: "Å e dus izdzisusi zvaigznÄ«te" (Here sleeps an extinguished star – though poetically speaking, probably "fallen star" works better)
Name: Lilija Margareta Bērziņa, born May 6, 1917, died August 1, 1919.
Location: Meža kapi ("Forest Cemetery"), RÄ«ga.
Transcription is in modern orthography. Photo taken by me, April 2012.
Tombstone Tuesday – Lilija Margareta BÄ"rziņa, 1917-1919