In this series, I am providing pictures of tombstones from Latvian cemeteries, all with death dates prior to 1945. I do not have any further information on the people mentioned.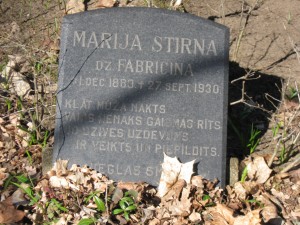 Photo taken by me, April 2012. Click to enlarge.
Name: Marija Stirna (born Fabricina), born December 1, 1883; died September 27, 1930.
Inscription: "Klāt mūža nakts, Vairs nenāks gaismas rīts, Jo dzīves uzdevums, Ir veikts un piepildīts." (Life's night has arrived, the light of morning will no longer come, for life's assignment, has been done and completed.)
Location: Meža kapi ("Forest Cemetery"), Rīga.
Tombstone Tuesday – Marija Stirna (born Fabricina), 1883-1930