I was at a cemetery this weekend, visiting and photographing the grave of my great-grandfather's sister, and happened to meet a relative I had never met before! This relative was an elderly lady who was the daughter of one of my great-grandfather's other sisters. We met again on Monday, and she gave me all of her photos of the family, including this one! I had never seen photos of my great-great-grandparents Roberts and Doroteja before.
Photo is c. 1910. There is a 21 year age difference between the oldest child (Alise) and the youngest (Margrieta).
Standing along the back, left to right: Alise (born 1885, died 1984, owner of the diary that I've been posting), ArvÄ«ds (my great-grandfather, born 1894, died 1941), Bruno (born 1891, killed in action during WW1), Vera (born 1890, died 1970s-1980s), Jānis (born 1898, died 1941).
Seated: The patriarch Roberts Jūlijs Francis (born 1859, died 1922), matriarch Doroteja Matilde (maiden name Plūme, born 1865, died 1918 of the Spanish flu).
Standing in front: Margrieta (born 1906, died 1980s), Velta (born 1903, died 1930s of tuberculosis).
(Click to enlarge)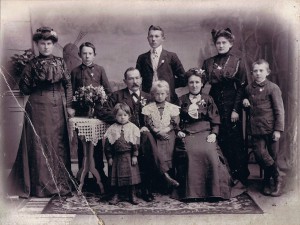 Wordless Wednesday – Francis Family Portrait