Merry Christmas, or, as you would say in Latvian, Priecīgus Ziemassvētkus!
Hope you and yours have a good holiday!
And what would be a Latvian Christmas without pīrāgi (bacon buns)?
Here is my dad, making pÄ«rāgi yesterday…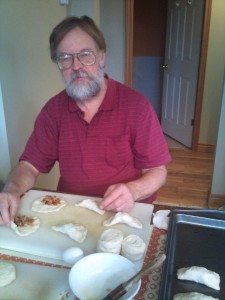 And here is (some of) the finished product! I helped. We made both the traditional bacon-filled ones, as well as mushroom-filled ones, which I had developed a taste for back when I was a vegetarian.
I provided this link on the Discovering Latvian Roots Facebook page last week, and decided to share it here as well. Here's a tip: If making the dough seems too time-intensive, use Pillsbury's "Country Biscuits" instead – just flatten them out, fill them, and away you go! Though be prepared to invest some money in this case – there are only 10 per can, so if you're making lots of pÄ«rāgi, you may want to just make the dough yourself. Up to you, delicious either way!
Priecīgus Ziemassvētkus from Discovering Latvian Roots!