During the Soviet era, there were few buildings so feared and dreaded in Latvia as the "Corner House" – an otherwise nondescript building on the corner of BrÄ«vÄ«bas and Stabu streets (though of course BrÄ«vÄ«bas street – meaning Freedom Street – was called Lenin Street during the Soviet era, couldn't have any references to freedom). This building was the headquarters of the local KGB, and NKVD before them. Many of those who entered for questioning never left through the same doors that they entered through – either they stayed in the building until they were executed, or they left in a prison truck to be taken further afield to prison or the gulag.
The building was then taken over by the Latvian police force after independence was re-established, but they abandoned it in 2008. It stood empty for a number of years, until this year – as part of the RÄ«ga 2014 European Capital of Culture – the Corner House is open once again, but not as a prison or place of terror, but a place of exhibitions that commemorate the terrors that took place here and the wartime experiences of the Latvian people.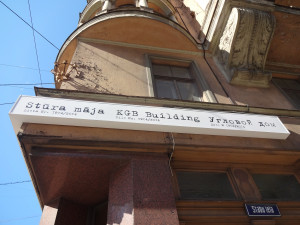 At the entrance to the Corner House. Photo taken by me, August 2014.
It is possible to go on guided tours of the "Cheka basements", where the prison cells were located, and see where and how prisoners actually lived. You get to see an interrogation chamber, and learn why windows on the fourth and fifth floors had bars on them.
On the first floor, there is a free-of-charge exhibition by the Occupation Museum of Latvia that goes through the history of the Soviet occupation and some of the events in the Corner House itself. The fourth and sixth floors of the building require payment, and have a collection of exhibitions from many different museums and organizations, including the Latvians Abroad – Museum and Research Centre that I work with.
The Latvians Abroad – Museum and Research Centre's exhibition is called "A Latvian's Suitcase" – and exhibits items that people brought with them when they were leaving Latvia for new lives someplace else (most are from the Second World War era). The main room of the exhibition is designed to look like a luggage storage room, with the tags describing the objects looking like luggage tags.
"A Latvian's Suitcase" exhibit. Photo taken by me, August 2014.
There are the items that you would expect – clothing, suitcases, documents – but also items that might seem overly sentimental or bulky, not items that you would think to pack if you were fleeing for your life – but people brought with them anyways, as they were a testament to what could not and should not be forgotten. Folk costumes were one of the major items – impractical as daywear, but a vital part of maintaining the Latvian identity abroad.
People bringing bread along would not sound too unusual – after all, you need something to eat while you are on this long journey. But what is surprising is the number of people who kept the crusts from this bread – and then used it as a starter for making bread in their new homes. One of the rooms of our exhibition mentions one family that still bakes bread from that same starter now, 70 years later, but from the stories I've heard, I know that a number of other families do the same. Totally amazing!
The exhibition at the Corner House is open until October 19th. If you are in RÄ«ga during this time, I highly recommend you visit.
A question we ask of visitors to the exhibition – and they write their answers on a card we give them and put it up on the wall – is "if you had only minutes to pack before leaving your home, probably forever, what would you bring with you?" So now, here on this Internet wall, I ask the same question. What would you bring with you?
The Dreaded Corner House of RÄ«ga