We're starting off the Mappy Monday series on Discovering Latvian Roots with the most famous and iconic of Latvian streets – BrÄ«vÄ«bas iela, in English – Freedom Street. This is also one of the streets that has undergone the most name changes, especially in the 20th century, so it makes a good starting point for this series.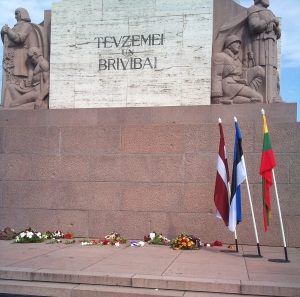 Base of the Freedom Monument with the three Baltic flags on the 25th anniversary of the Baltic Way. Photo taken by me, August 2014. Click photo to enlarge.
Freedom Street starts, appropriately, at the Freedom Monument – though the street, and its name, came first. In centuries past, the old trade road to Pskov and beyond to Saint Petersburg followed a similar path, and terminated in Old Town RÄ«ga. Freedom Street is one of the longest roads in RÄ«ga, and can almost be considered one of the longest roads in Latvia, since it still continues on as the highway to Pskov, but after it leaves RÄ«ga city limits, the name changes from Freedom to the Vidzeme highway.
The modern Freedom Street developed as the main boulevard of RÄ«ga in the early to mid-19th century. RÄ«ga's suburbs (which at that point constituted most of RÄ«ga outside of Old Town) were destroyed in 1812, in anticipation of Napoleon's invasion (which never ended up coming to RÄ«ga). This event, along with the dismantling of the city walls along the city canal in the 1850s and 1860s, meant a fundamental restructuring of the RÄ«ga environs. The boulevard system was developed, and masonry construction was permitted in the suburbs. This construction was particularly intensive along Freedom Street, particularly in the first half of the 19th century, and the road stretched to a triumphal arch named the Alexander Gate, built in 1818 in honour of Czar Alexander, and thus the road was also given the name Alexander Street (Aleksandra iela in Latvian).
It retained this name until Latvian independence, when it was renamed Freedom Street in 1923. The Freedom Monument was built in 1935. The iconic name of this street, and what it represented, meant that occupying forces would not accept such an idea, and thus the occupation of Latvia meant the name changed. During the Nazi occupation during the Second World War, the road was known as Adolf Hitler Street. Once the Soviets occupied Latvia, they also eliminated the name of Freedom, and called it Lenin Street.
Upon the restoration of independence, Freedom Street regained its name, and maintains it to this day.
Mappy Monday – The Many Names of Freedom Street