In this series, I am providing pictures of tombstones from Latvian cemeteries, all with death dates prior to 1945. I do not have any further information on the people mentioned.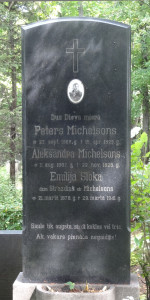 Photo taken by me, August 2015. Click to enlarge.
Top Inscription: "Dus Dieva mierā" (Resting in God's Peace)
Names: Pēteris Michelsons, born September 27, 1868, died April 15, 1925; Aleksandra Michelsons, born August 1, 1907, died November 22, 1928; Emīlija Sloka, nee Strazdiņš, widowed Michelsons, born March 21, 1878, died March 29, 1941.
Bottom Inscription: "Saule tik augstu, sirdÄ« kokles vel trÄ«c, Ak, vakars pienāca negaidÄ«ts!" (The sun is so high, music from kokles still quakes in our hearts, Oh, evening has come unexpectedly!)
Location: Sarkandaugava Hill Cemetery, RÄ«ga
Tombstone Tuesday – Michelsons Family