In this series, I am providing pictures of tombstones from Latvian cemeteries, all with death dates prior to 1945. I do not have any further information on the people mentioned.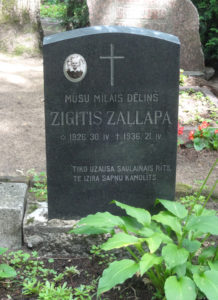 Photo taken by me, August 2015. Click to enlarge.
Top Inscription: "MÅ«su mīļais dÄ"liņš" (Our dear son)
Names: Zigītis Zaļlapa, born April 30, 1926, died April 21, 1936.
Bottom Inscription: "Tiko uzausa saulains rÄ«ts, te izira sapņu kamolÄ«ts." (A sunny morning just dawned, and here our dreams unraveled)
Location: Sarkandaugava Hill Cemetery, RÄ«ga
Tombstone Tuesday – ZigÄ«tis Zaļlapa, 1926-1936