In this series, I am providing pictures of tombstones from Latvian cemeteries, all with death dates prior to 1945. I do not have any further information on the people mentioned.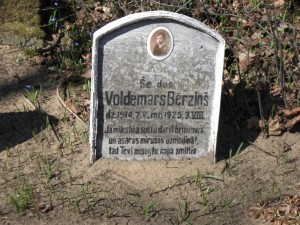 Top Inscription: "Å e dus" (Here rests)
Name: Voldemārs Bērziņš, born May 7, 1914, died August 3, 1925.
Bottom Inscription: "Ja mÄ«lestÄ«ba spÄ"tu darÄ«t brÄ«numus, un asaras miruÅ¡os modināt, tad Tevi nesegtu kapa smiltis" (If love was able to grant miracles, and tears awaken the dead, then you would not be covered by the sand of the grave)
Location: Meža kapi ("Forest Cemetery"), RÄ«ga
This grave is in the same plot as the one from last week for a little girl by the name of Lilija Margareta Bērziņa. It is possible that they were brother and sister.
Tombstone Tuesday – Voldemārs BÄ"rziņš, 1914-1925