In this series, I am providing pictures of tombstones from Latvian cemeteries, all with death dates prior to 1945. I do not have any further information on the people mentioned.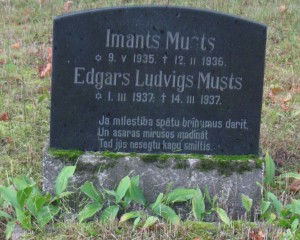 Photo taken by me, September 2012. Click to enlarge.
Names: Imants Musts, born May 9, 1935, died February 12, 1936; Edgars Ludvigs Musts, born March 1, 1937, died March 14, 1937.
Inscription: "Ja mÄ«lestÄ«ba spÄ"tu brÄ«numus darÄ«t, Un asaras miruÅ¡os modināt, Tad jÅ«s nesegtu kapu smiltis." ("If love was able to work miracles, and tears awakened the dead, then you would not be covered by the sands of the grave."
Location: Torņakalns cemetery, Rīga
The inscription on this gravestone is almost identical to one I posted several months ago – this one was also a child's grave, so it appears that this must have been a popular phrase for remembering lost children.
Tombstone Tuesday – Musts Children