In this series, I am providing pictures of tombstones from Latvian cemeteries, all with death dates prior to 1945. I do not have any further information on the people mentioned.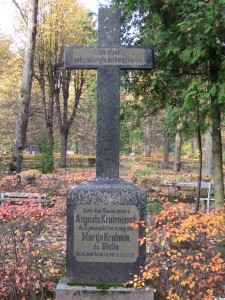 Photo taken by me, October 2012. Click to enlarge.
Top Inscription (on cross): "Salda atpūta, pēc nobeigta dzīves darba" (Sweet sleep after completing life's work)
Top Inscription (on bottom part): "Še dus Dieva mierā" (Resting here in God's peace)
Names: Augusts Krūmiņš, born January 6, 1867, died August 9, 1917; Marija Krūmiņa (maiden name Slotiņa), born March 18, 1873, died December 26, 1928.
Location:Meža kapi, Rīga
Tombstone Tuesday – Augusts and Marija Krūmiņš