My grandfather Aleksandrs Francis attended the Jelgava Academy of Agriculture and graduated in 1944. He had also spent some time in Uppsala, Sweden, in a student exchange at Uppsala University. This is the diploma that was issued to him on July 4, 1944.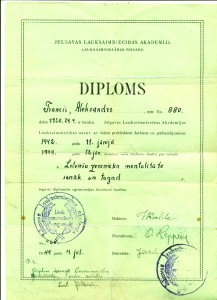 Original document in possession of the family.
Aleksandrs Francis, born on September 24th 1920, has completed his studies with the Jelgava Academy of Agriculture, Department of Agriculture, having attended to all practical work and examinations on the 11th of June 1942.
On the 12th of June 1944 he defended his thesis on the subject:
"Latvian Peasant Mentality in the Past and Present"
and obtained the Diploma of an Agricultural Engineer.
I have tried finding his thesis work, but thus far came up empty. I hope that it survives somewhere, but contacting the university has not yielded results. Maybe someday! I'd really like to read it.
Diploma of Aleksandrs Francis – July 4, 1944