In this series, I am providing pictures of tombstones from Latvian cemeteries, all with death dates prior to 1945. I do not have any further information on the people mentioned.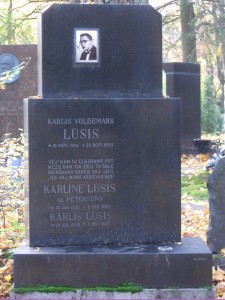 Photo taken by me, October 2012. Click to enlarge.
Top Name: Kārlis Voldemārs Lūsis, born September 10, 1914, died September 23, 1933
Middle Inscription: "Vēj kam tu elsodams pūt, Mežs, kam tik žēli tu šalc, Šķiršanās sāpes vai jūti, Jeb vai mums ardievas nes?" ("Wind, why do you blow with such sobs, Forest, for whom do you rustle with such sadness, Do you feel the pain of separation, or are you bring us farewells?")
Bottom Names: Karlīne Lūsis (maiden name Pētersons), born June 10, 1883, died February 9, 1939; Kārlis Lūsis, born July 14, 1879, died December 7, 1939.
Location: Meža kapi, Rīga
Tombstone Tuesday – Lūsis Family