I know this is a blog about Latvian genealogy, but I've decided to make this post about our friends and neighbours, the Estonians.
At the end of April and beginning of May, I was in Minneapolis, Minnesota and Lincoln County, Wisconsin, in the United States, to do some research about the early Latvian settlers in Lincoln County. This was a great trip and I met a good number of people who assisted in my research (thank you!), and one of the places they shared with me was this place.
Lincoln County in northern Wisconsin was home to many Latvians (predominantly from the province of Kurland) in the early 1900s, as well as numerous Estonians, Germans and other northern Europeans. You can still see that today when looking at names on mailboxes and in the local newspapers, as well as on gravestones in the cemeteries. I'll be getting to the cemeteries later, but today with this (not so wordless) Wednesday post I wanted to show this abandoned church.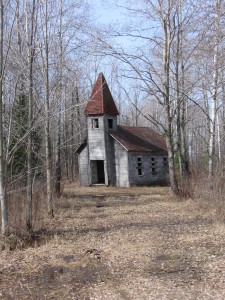 Estonian Martin Luther Church. Photo taken by me, April 2013. Click to enlarge.
You can read more about this Estonian church here, but in short: Built in 1914, though burials in the cemetery had already begun in 1909. This took place after the Estonian Lutheran congregation broke off from the Latvian one (which I will talk about later), since they had initially shared their facilities. While both the Estonian Lutheran Church and the Latvian Lutheran Church were essentially abandoned after the 1950s, the Latvian one was torn down in 1961, but the Estonian one remains standing (sort of). While the Latvian church was demolished, the cemetery surrounding it is in a well preserved state, but the opposite is here – it took some hunting through the trees behind the church to find the remaining gravestones (the remains, however, were apparently transferred to an Estonian cemetery in Canada). While there is increasing scholarship on the Latvian community of Lincoln County, I'm not sure if similar research is being done on the Estonian community. I should find out!
Wordless Wednesday – Abandoned Estonian Church in Lincoln County, Wisconsin