Part 2 in my series on my great-grandfathers. Part 1 is here.
Today's great-grandfather is ArvÄ«ds Vilhelms Francis. ArvÄ«ds was born on August 7th, 1894 (Old Style) at one o'clock in the afternoon at Kroņi farm on the Nābe estate, south of the town of Limbaži in northern Latvia. His father was Roberts JÅ«lijs Francis (parents JÄ"kabs and JÅ«lija VilhelmÄ«ne, nee Roop) from MilÄ«te estate near Lake Burtnieki. His mother was Doroteja Matilde PlÅ«me (parents Mārtiņš and Dārta, nee Andersone) was also born on the Kroņi farm and had inherited it from her parents. ArvÄ«ds had two brothers and four sisters that survived to adulthood, AlÄ«se (1885), Vera (1890), Bruno (1891), Jānis (1898), Velta (1903) and Margrieta (1906). There were two more children in the family who died in infancy, Milda (1886) and Hugo (1888).
ArvÄ«ds attended the town school in Limbaži and spoke German and Russian as well as Latvian. During the First World War and the Latvian War of Independence he served in the 4th Valmiera Infantry Battalion. According to Soviet-era documents, he worked in counter-espionage in the Latvian army from 1919 to 1921. He married MÄ"rija AlÄ«de EglÄ«te on September 28, 1919. My grandfather Aleksandrs was born on September 24, 1920, and his sister, who is still living, was born in 1923. The family lived on MÄ"rija's family farm, SamÅ¡i, just a few kilometres up the road from Kroņi.
At some point after the war, ArvÄ«ds joined the "political police", a division of the criminal police force dedicated to intelligence and counter-intelligence regarding extremist groups. In the 1920s and 1930s, with Soviet Russia to the east and Nazi Germany to the west, this was a busy job. The family spent the late 1920s and early 1930s living in western Latvia, in the towns of Liepāja and KuldÄ«ga. ArvÄ«ds became the regional leader of the political police in KuldÄ«ga in 1928.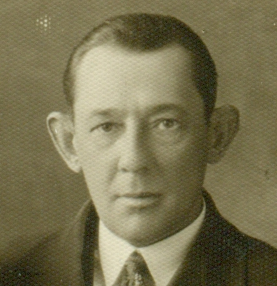 Arvīds Francis, c. 1930. Photo from family collection.
In 1929, ArvÄ«ds was a member of the "Democratic Centre" political party, but I do not know of any other political involvement. According to family members, much of ArvÄ«ds' work focused on the monitoring of far-right extremist groups such as PÄ"rkonkrusts. His wife MÄ"rija was often worried about how dangerous his work could be.
Working in government intelligence meant that when the Soviets invaded in 1940, he was immediately marked for arrest. He was arrested on August 3, 1940 by the Soviets, imprisoned and tortured at the Daugavpils fortress. Soviet documents of his "trial" state that he was arrested for "actively fighting" against the working class and taking an active role in the arrest and interrogation of Communist revolutionaries during the interwar period. He was found guilty of being "dangerous to society" and the Soviet order and was sentenced to execution. He was shot on June 22, 1941 and buried outside the fortress walls with some of his co-workers. He was 46 years old. He was officially rehabilitated on November 14, 1996 after Latvia had regained independence.
ArvÄ«ds' execution was just one of a series of wartime tragedies for the family. His younger brother Jānis was also executed during the Second World War. His older brother Bruno was missing and presumed killed in action in the First World War. ArvÄ«ds' brother-in-law Georgs, husband to AlÄ«se, was also killed during the First World War. Mother Doroteja Matilde died of the Spanish flu in the last months of 1918. The interwar period also had its deaths – father Roberts JÅ«lijs died in 1922, and sister Velta died of tuberculosis in the 1930s. While the family numbered nine before the First World War started, by the end of the Second World War there were only three sisters left – AlÄ«se, Vera and Margrieta, all of whom lived to the 1980s.
Next up: We're moving out of law enforcement and into banking with my third great-grandfather, PÄ"teris Eduards Celmiņš.
Bringing Out the Great-Grandfathers, Part 2