I was looking through old blog posts recently, and realized that I started a series of posts on my great-grandfathers (almost four years ago now), but that I never finished the series. I only talked about one of my great-grandfathers!
So I'm going to finish this series now, and I will start by expanding on the first post I made, because I have much more information now than I did then. So here we go!
If you compare this post to its original version, you can see all of the new information that I've found on him in the past four years. This is just an example of everything you can learn at the archives by doing research that goes beyond the names and dates. Of course, this isn't possible for every person, especially as you go further back, but if your ancestor was a public servant, or prominent in their field, this does give you a peek into what might be available to be found.
So, on to the life of my great-grandfather Augusts Roberts Lūkins. He was born on August 30, 1898 (Old Style, September 11 in New Style) in Daugavgrīva, now one of the northernmost neighbourhoods of Rīga. His father was Jēkabs Lūkins (parents Līberts and Līze, née Mildere), a worker/vendor/farmer from the Jaunate estate in northern Latvia, south of Mazsalaca. His mother was Karlīne Matilde Babure (parents Mārtiņš and Ēde, née Jansone), who was born in Rīga shortly after her parents arrived there from Suntaži parish in central Latvia. Augusts had four brothers, Ernests, Antons, Jānis and Vilis, and two sisters, Olga and Vera. Some of these siblings may be half-siblings, since Jēkabs Lūkins was married and widowed prior to his marriage to Karlīne, and I have yet to locate all of their birth records.
He graduated from the RÄ«ga City Gymnasium and started to pursue medical studies at the University of Tartu, but this was interrupted by the First World War. He served in the 5th CÄ"sis infantry battalion during the Latvian War of Independence. After the war was over, he enrolled at the University of Latvia in RÄ«ga in the Faculty of Law. He married Lilija Marija Å Ä«re on September 4, 1921.
Presumably to finance his studies, he also worked as a police officer with the RÄ«ga Criminal Police during this time. He received a number of commendations while doing this work, and traveled to assignments all across the country. On March 25, 1922 he was awarded 2000 rubles (approximately $500 today, based on gold exchange rates) for solving case involving the theft of furs and a revolver. On June 20, 1922, he left his position in the criminal police "by his own choice" to take up a position with the RÄ«ga district court.
He stayed with the RÄ«ga district court for the rest of the year, and in January of 1923 was invited to take a position as an assistant prosecutor at the Latgale Regional Court. I assume that this was in the city of Daugavpils, because this is where my grandmother Zenta was born on June 24, 1923. Since he was living far from RÄ«ga, he never finished his legal studies, but this did not impede his career. In March of 1925 he moved his family to Krustpils, where he became the justice of the peace. My maternal grandmother, who grew up in Krustpils, recalls the family, since they were prominent in the community, and remembers my paternal grandmother Zenta as a pretty girl with blond braids.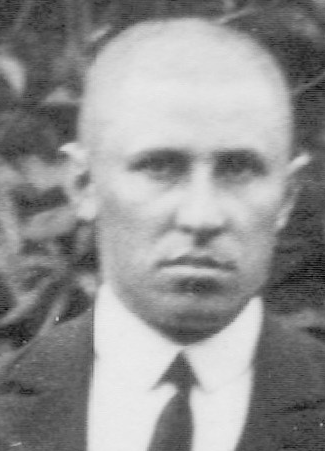 Augusts at his father's funeral, 1929. Photo provided by a LÅ«kins family cousin.
Augusts had been involved in politics, and in 1930 he gained a seat in the 3rd Saeima (Latvian Parliament) after the death of M. Abuls, since he was the next person on the party list. He was a member of the Latgale Latvian Union party at this time, though in Parliamentary documents I've seen him listed as a member of other parties as well. He was re-elected in the 4th Saeima, and remained a member until the Saeima was dissolved by President Kārlis Ulmanis in 1934. During his time in the Saeima, he was a member of the judicial committee and the secretary of the criminal law commission. Shortly before the Saeima was dissolved, he was offered a position as a justice of the peace in the Riga district court. He said that if this conflicted with his mandate as a Saeima deputy that he would give up his mandate, but due to the dissolution of the Saeima this did not become an issue.
And so Augusts became the justice of the peace of the 10th district of RÄ«ga. While in this role, he was paid 454 lats per month, which, based on gold exchange rates, is approximately $5800 in today's currency.
How he survived the first Soviet occupation, from 1940 to 1941, I don't know, but as far as I'm aware he stayed in his position as justice of the peace until late 1944, when he fled Latvia with his wife, daughter and son-in-law. His daughter Zenta had married my grandfather Juris Celmiņš on October 9, 1943.
The family lived in Displaced Persons camps in northern Germany, including Camp Noor near Eckenforde. They came to Canada in 1949, and after moving about through Ontario and Quebec for a few years due to his son-in-law's work, they settled in Toronto in 1955.
Zenta died in 1959 of lung cancer, leaving her husband with three young children (he would later remarry). Augusts' wife Lilija died on July 22, 1968, and Augusts died in Toronto on September 19 of the same year, a week after his 70th birthday. His death was reported in many Latvian emigre newspapers, and he appears in a book about Latgalian politicians.
Augusts' life is a prime example of the opportunities that independent Latvia afforded the native Latvian population – while Augusts came from a poor family of peasant stock, he was able to rise much higher in society through his education and hard work. In this time period, it appears hard work mattered more than formal education – I very much doubt that anyone would be able to become a justice of the peace these days just through hard work if they didn't have that formal piece of paper.
Next great-grandfather: Arvīds Vilhelms Francis. Coming soon!
Bringing Out the Great-Grandfathers, Part 1 (updated)